Florida Marine Construction and its employees are celebrating 28 years of operation and reflecting on its past while looking to its future. Although much has changed since our first marina project in 1989, Florida Marine Construction has maintained the same principle throughout its 28 year history: bring to each project a commitment to utilizing proven technology and proper construction, to adopting strict quality control measures, and to conducting all transactions with a level of professionalism that is unrivalled. A quarter of a century and nearly 1000 berths later those same commitments remain the foundation of the company's success.
"Our presence in Southwest was born out of a desire to provide developers and marina owners in our geographical area with the latest technology and expertise needed to design and construct the areas' best marinas
Life cycle efficiency is a business approach that aims to improve our clients' productivity and maximise the reliability and lifetime of our installations.
Florida Marine Construction provides professional services for the various stages of a marina life cycle. Our range of services covers every stage, from early conceptual sketches and marina optimisation engineering to complete turnkey marina projects and after sales services. Our expertise is increasingly called upon to solve modernisation and remodelling issues at existing marinas.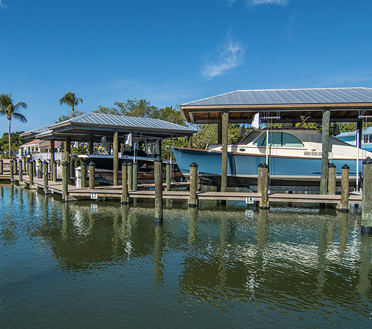 Interested in a distinctive waterfront structure?
Contact Florida Marine Construction today!
Looking for marine construction in Southwest Florida?
If you desire durable and finely planned marine structure, we hope you shall measure the quality of Florida Marine Construction.
Proudly servicing Lee and Collier counties.