Living in a waterfront home is a luxury and seawalls permit you to enjoy the waves without their damaging, erosive effects. While waves and wakes are often beautiful forces of nature, they can also be disruptive. Quality seawall construction protects your property from this damage. Retaining walls repel waves and hold back the ground, preventing it from washing away during storms. Seawalls are vital to the preservation of your waterfront property.
Our seawall construction projects have ranged in size from small repairs to installation of over 2000 LF of new seawall. We have extensive knowledge in the construction of concrete, vinyl and steel seawalls. Our installation process ensures our seawalls are durable enough for all marine environments whether your project calls for concrete, vinyl or steel.
To maintain your property value, you must secure and maintain your seawall. Heavy rains and hrricanes may create problems due to the lack of maintenance and deterioration of your wall and berm erosion. If you notice a loss of soil, cracking, sinking or rotation of your seawall it is imperative that you have your seawall inspected immediately by Florida Marine Construction.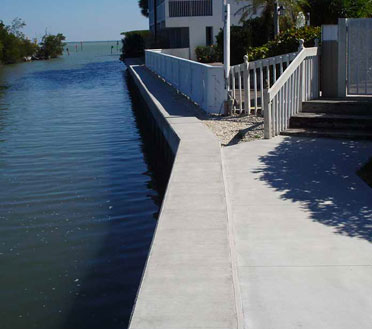 Interested in a distinctive waterfront structure?
Contact Florida Marine Construction today!
Looking for marine construction in Southwest Florida?
If you desire durable and finely planned marine structure, we hope you shall measure the quality of Florida Marine Construction.
Proudly servicing Lee and Collier counties.