Rip rap revetments are a very effective method from limiting shoreline erosion in canals and waterways. Riprap, also known as armor stone, is commonly composed of clean washed limestone rock.
The various angles and shapes of the rip rap help to absorb and deflect the shock of waves. This greatly reduces the amount of erosion and weathering on shorelines as well as marine structures such as dock piling, shorelines, and existing seawalls.
Utilizing our special riprap installation barges and long reach excavators, Florida Marine Construction can build or repair your marine revetment even in the most exacting locations. Our shoreline mitigation experience can assist you through the pre-planning and construction phases of your shoreline restoration project.
With more than 28 years experience constructing rip-rap revetments, breakwaters and "T" groins in the Gulf of Mexico, Florida Marine Construction can match the right riprap revetment solutions to your remediation or new shoreline protection project. Let us show you why we are the number one inland and coastal riprap revetment contractor in Southwest Florida.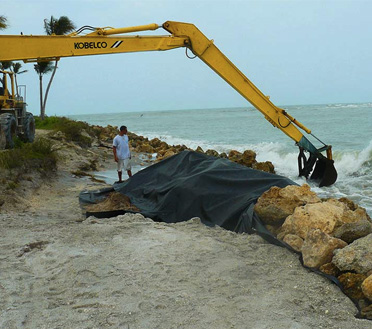 Interested in a distinctive waterfront structure?
Contact Florida Marine Construction today!
Looking for marine construction in Southwest Florida?
If you desire durable and finely planned marine structure, we hope you shall measure the quality of Florida Marine Construction.
Proudly servicing Lee and Collier counties.